The Tuscany of Pinocchio
A beautiful little sky-blue carriage
The Paper
The Route of the Paper
................. A walk through Time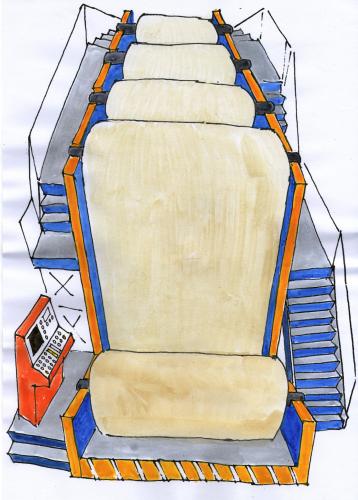 "- How do I get there? - You have to take that little path to your left and walk straight on following your nose. You can't go wrong. […] And this said, he immediately set off along the little path and he began to walk quickly, so quickly that he was almost running"
Certainly Pinocchio in his adventures on the road has truly traveled over many!
On real roads that led him to encounter new adventures or to escape from some danger that threatened him. And over roads that instead helped him to acquire judgment and to transform himself finally from a reckless wooden puppet to a good boy. Pinocchio's Tuscany invites you to discover the streets of the Via della Carta© in Tuscany, a network of nature trails that wind between valleys and hills and that has recuperated the traces of minor roads fallen into disuse.
They are the paths of the Via della Carta© in Tuscany The Via della Carta© in Tuscany (www.laviadellacarta.com), is a thematic itinerary that combines within itself and takes into consideration the value of the many cultural, naturalistic and archaeo industrial testimonies, that are tied to the centuries-old paper tradition of the territory and offers the unique opportunity to retrace through time and in space a relevant part of the story of 'paper '.
The Via della Carta© in Tuscany has recuperated some of the old routes that made it possible to go on foot between the 2 valleys of Pescia e Collodi, that made possible an exchange of merchandise and consented the paper masters and the men and women who worked in the antique paper mills to go to work. Do you like uncontaminated nature? Well then…let's go for a walk!